Optimum Webmail is an online email service provided by Optimum (an Internet and TV cable services provider) that offers a great way to access your e-mail using your web browser – anytime, anywhere. Optimum Optonline webmail service is mainly offered for sending & receiving emails through the official website – Optimum.net and using any email clients like Mailspring, Outlook Express, Apple Mail, or Mozilla Thunderbird.
You can check your emails, send or receives messages using an email client. Typically, Email clients have more benefits over the online webmail email service like they offer more options to manage your mails. One of the major benefits of an email client is that you can have your all emails available on your computer even if you disconnected from the Internet.
Optimum Webmail Sign In
Optimum online webmail can be accessed from the optimum.net website. You need to follow these simple steps to login into your webmail account –
1- Open your browser and go to https://www.optimum.net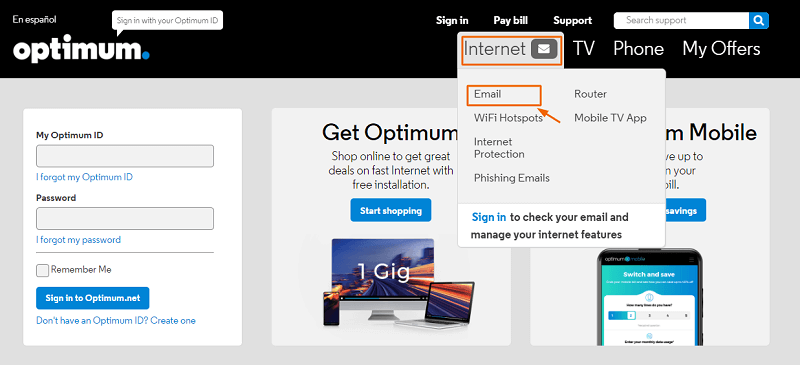 2- You will see there is an "Internet" Tab option in the main menu. Hover on the Internet tab, you will see an "Email" tab there.
3- Click on the "Email" tab and you will be redirected to Webmail/Email login page.
4- Enter your "My Optimum ID" and "Password" and click on "Sign in to your Optimum.net" account, from where you can manage your account and email as well.
You can directly open the Optimum webmail login page by visiting this link – Optimum.net Sign in.
Note: You need an Optimum ID to log in to your webmail account. If you don't have an Optimum ID, you can create one from here – Create Optimum ID.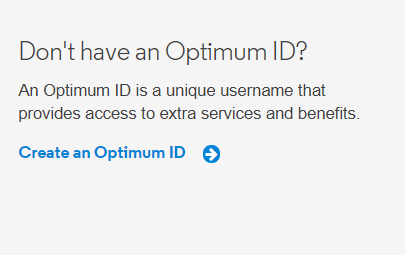 To create an account, you need to provide an Optimum account number, your last name, and the phone number that you have used in your account.
Optimum Webmail Settings
You can access your Optimum webmail emails online using a web browser by visiting the Optimum.net website or you can set up an Email client (Email software program) to access your webmails directly from your computer.
Setup Your Optimum.net Account with an Email Client Using IMAP
You will need an email software program to access your optimum account from your desktop. You can use any popular email client program like MS Outlook, Mozilla Thunderbird, or Earthlink
Optimum Webmail IMAP Settings
After opening a favorite email program, Go to the "File" menu and add a "New Email Account" and then enter the below information to connect with the optimum.net account successfully.
Incoming Server – IMAP
Server: mail.optonline.net
Port: 993
Security: SSL/TLS
Username: Your full email address
Password: Your password
Outgoing Server – SMTP
Server: mail.optonline.net
Port: 465
Security: SSL/TLS
Username: Your full email address
Password: Your password
After successful setup, you can connect to your webmail account and access your all email services.
Optimum Webmail Features
Optimum webmail has several features that make it more productive and easier to use. Some of the main features are –
Emails
It offers to send and receives messages using webmail as an online email service.
Contacts
It enables you to import your email contacts from some popular services and desktop applications to your webmail. Optimum Online Webmail currently supports contacts imports from Yahoo!, Gmail, MS Outlook, MS Outlook Express, Mozilla Thunderbird, and Earthlink.
Voicemail
Optimum Online Webmail allows you to view and listen to the voicemails from within the email option. You can access your voicemail messages from the top of the header by clicking on the Voicemail tab.
Note: To access your voicemail, you need to activate it first. To activate your voicemail access service using webmail, you need to dial #86 from the Optimum Voice phone line and follow the simple instructions.
Other than this, Online Optimum webmail offers many other features that are listed below –
General Email options
Auto email address suggestion
Spell check toolbar
Attachments sending button
Contacts integration option
Including a Signature option
Message auto-save option
Message forwarding option
Email printing option
Message moving option
Email Preference
Sending block list tab to manage blocked sender list.
Filters tab to organize forwarded and other messages.
Different signature options for different emails.
Vacation mode option to send auto-reply.
External Mail (POP) accounts to connect with a third-party email program.
Optimum Webmail Issues
1- Optimum webmail won't load – [Fix]
If you are accessing the optimum webmail using a client program then you may try these fixes –
Re-Login in your account – Sometimes, after cleaning your computer cache, logout the webmail account and interrupts accessing the emails so try to re-login in your account to fix the issue.
Update your Email client program – Try updating the email software as it might be outdated and prevent you to access the webmail account.
Try clearing the Cache files – If your account is not loading as expected then you should try clearing the computer cache and re-login in your account.
Re-Install the Email Client program – Try reinstalling the email software as sometimes, email software gets corrupted.
Note: If you are accessing the Optimum webmail online via a web browser then you should try "CLEARING" the browser cache and try again. If the issue still persists then you should contact Optimum support.
2- Can not attach files in optimum webmail using firefox.
If you can't attach the files using the Firefox browser then you should try using another browser like Chrome, Opera, or Safari. If you still can't attach files then you should try using Email client software. Please see the instructions here.
3- No notification sound when I get email on optimum webmail.
You should check your computer audio is not muted or plugged into an external audio device. If so then you should try disabling the Audio mute option or removing the external audio device first.
If the issue is still there, then you can reinstall the Email client software to check the issue is fixed or not.
FAQs –
1- How to import vCard contacts to optimum webmail?
To import vCard contacts, you can follow these simple steps,
1- In the Contacts panel, click on the "+" button.
2- Import or drag the vCard attachment into the Contacts
2- How to transfer saved emails from optimum webmail to Gmail?
You can't transfer Optimum emails to Gmail but you can easily transfer your Webmail account email address to your Gmail account. You can export your email address Contacts as a CSV file and then import it to your Gmail Contacts.
3- Why optimum webmail does not forward to Gmail?
You should verify your Gmail address and forwarding options to check if you have set up everything correctly.
Here we have explained everything about Optimum webmail and I hope, you now know everything related to Online optimum webmail and email related services.
4- How do i delete my Optimum email account?
To delete your Optimum email account, please follow these instructions:
1. Log in to your account.
2. Click on the "Settings" tab.
3. Click on the "Cancel Account" button.
4. Follow the instructions to cancel your account.
Please note that any Optimum Online account that has not been used once in the last 90 days will be permanently deleted.
Read:
XMission Webmail – Login, Email Setup
DYC Webmail – Login, Access & Configuration
Latech Webmail – Login, POP3 Email Settings
Smithville Webmail – Login & Email Client Setup