Do you need Optusnet email settings or IMAP settings to connect your webmail to other email clients?
Well, you have landed in the perfect spot. To configure your email account, it is crucial to have accurate information about the Optusnet Email Server Settings. So, if you are looking for a step-by-step guide on how to set up Optusnet email for your various email clients, keep reading this article.
Overview of Optusnet Webmail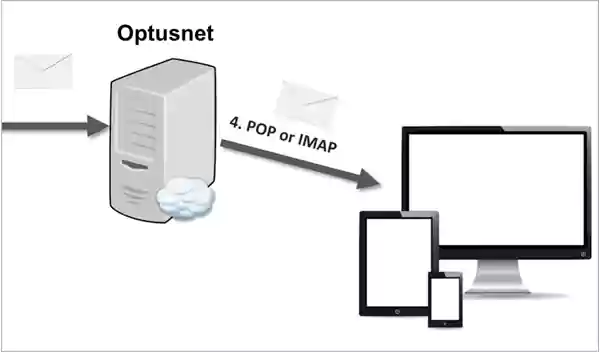 Do you know there is a free webmail service that makes accessing your email smooth? Optusnet Webmail is one such service through which you can create your username@optusnet.com.au address.
To access your email via Optusnet, all you need is a computer or a compatible device, along with a stable internet connection and browser. The webmail service contains all the required features, including mail, online storage, a spam filter for mail, folders, and a draft facility.
Also Read: How to Transfer Contacts From Webmail to Gmail?
How to Set Up an Optusnet Email?
Setting up an Optusnet email is a simple process that requires careful consideration. The procedure is slightly different for Windows and Mac users; let us go over both in detail.
Optusnet Email Set Up for Windows
Follow the below-mentioned steps for smooth Optusnet email settings.
Open Windows Mail, choose Accounts, and then select Add Account/New Mail from the drop-down.
Select Advanced set-up from the menu.
Select the Internet email account type at the Initial Set-up screen.
Fill in your Username, Password, and Email address.
At the Send Message option, type your name.
Type optusnet.com.au into the Incoming and Outgoing Email Server fields.
Select IMAP4 from the Account type dropdown to complete the setup.
Let us now go over the step-by-step procedure for configuring optusnet.com.au email settings on Mac.
Optusnet Email Set Up for Mac
Here are the simple steps to configure Optusnet email settings on your Mac. Just follow the summarized instructions given below.
On your Mac, launch Mail. Next, click on your Account.
Select the + in the lower-left corner.
Make a new account and fill in the required fields, including the email address, password, and full username.
Select Continue from the menu.
Enter the following data to the incoming mail server.
Incoming Mail Server: mail.optusnet.com.au
Description
Username
Account Type
Password
Simply press the Continue button.
The server for outgoing mail should be mail.optusnet.com.au
Click 'Continue' and then 'Create' when it is finished.
Also Read: 5 Main Benefits of Using Webmail in Comparison with Email
Login Process for Accessing Optus Webmail
If you are having trouble logging in to Optusnet webmail, these step-by-step instructions will guide you through the process.
Click on Login from the home screen. Next, go to My Account.
Fill in your credentials like Email and Password.
Then, refresh the Security Code and fill in the box displayed on the login page.
In the final step, confirm the information by clicking on the LOGIN option.
You will be able to access all of your important emails and information by going through this login process.
Also Read: Hostinger Webmail Login | Easy Method To Access In All Devices
Optusnet Email Settings for Account Configuration
The settings that are required for you to set up your Optusnet email account correctly are listed below.
Email Settings
Port Number
Optusnet IMAP Incoming mail server:
mail.optusnet.com.au
993, requires SSL
143, non-secure
Optusnet SMTP Outgoing mail server:
mail.optusnet.com.au
465, requires SSL
587, non-secure
Optusnet POP3 Incoming mail server:
mail.optusnet.com.au
995, requires SSL
110, non-secure
How to Set Up Optusnet IMAP Settings?
If you wish to configure your email with other platforms like Outlook, it is necessary to set up Optusnet IMAP settings. Follow the steps outlined below.
Open your email client software, try to locate the Settings menu, and tap on it. Next, click on Accounts and Sync.
Click on Add Account. A notification will pop up on the screen, which will ask you to fill in your email address.
Enter your email and password.
In the server type, select Optusnet IMAP settings.
Now, select Sign In from the menu. Follow the instructions on the screen to enter the remaining information.
Enter your email account's username.
If Optus is your email provider, enter mail.optusnet.com.au as your incoming server.
Type the incoming Port Number that appears on the screen.
Click on Security Type and turn off encryption.
Choose a setting for retrieval of new email and return to the home screen.
Finally, tap on email and enter the Account name and Sender name.
Once you are done with the execution of these steps, you will be successful in setting up Optusnet IMAP settings.
Also Read: What Are Email Server Settings (IMAP & POP3)?
Optusnet Customer Support Services
Are you facing any configuration issues with your Optus account or with Optusnet email settings? If so, you can use the information below to get in touch with their support cell.
Optus Customer Support Phone Number
133 937
Mon to Fri.: 9 am-6 pm
Sat: 9 am-5 pm
Optus Technical Support Number
133 937
9 am-6 pm
7 days a week
Optus Complaint Email
enquiries@optus.com.au
Optus Complaint Address
PO Box 306
Salisbury South 5106
South Australia
Also Read: IMAP Vs POP3: What's the Difference?
Conclusive Thoughts
It should now be clear to you how easy it is to set up your Optus webmail account on a desktop, laptop, or smartphone. We also discussed how to use IMAP email settings to connect Gmail, Outlook, and other platforms to Optusnet.
So, all you have to do is follow all the instructions and steps outlined in this blog and select the appropriate Optusnet email settings option.
FAQs
Ans: Choose IMAP if you are a firm believer in safeguarding your data and saving space on your device. This indicates that your emails will be kept on your email provider's server.
POP3 downloads your email data in its exclusive server and shields it from getting lost. Although this will free up server space, those emails will not be accessible online if something happens to your local storage.
Ans: Maximum Storage for webmail is 500 MB. By selecting Webmail Settings > Quota under the Settings tab, users can view their available storage space. Storage includes any folders under your mailbox in Webmail, including your inbox, deleted items, spam folder, and others.
Ans: IMAP is a standard that asks your email provider to store all of your emails and folders on its servers. The STMP (Simple Mail Transfer Protocol) protocol is used to deliver emails from your account to different recipients.
Sources
Read More: