When using GoDaddy for any of its services, always use the GoDaddy SMTP server to ensure smooth email delivery as well as optimal brand maintenance. However, do you know why it is much easier said than done? Because it needs a certain amount of technical know-how.
Start reading this article to learn everything there is to know about how to find SMTP GoDaddy mail servers, and the differences between POP3 and IMAP.
GoDaddy Workspace SMTP Settings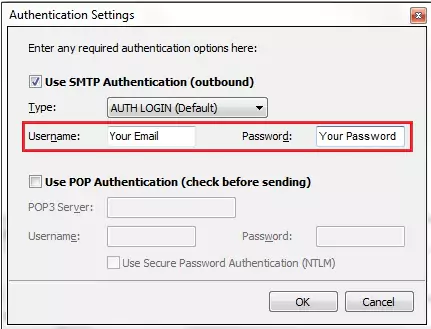 You don't have to use GoDaddy's webmail interface, as it offers you SMTP instead. As a result, you can also prefer using different mail clients including Microsoft Outlook, or Mozilla Thunderbird. Using any of these alternatives can assist you in monitoring your messages and responding to them individually.
To assist you with GoDaddy SMTP settings, I have listed the necessary information in the table below, which you must enter into the appropriate spaces:
| | |
| --- | --- |
| SMTP Host | smtpout.secureserver.net |
| SMTP Username | Your full email address (name@domain.com) |
| SMTP Password | Your email ID password |
| SMTP Port | 465 SSL/TLS |
How Can You Use GoDaddy SMTP Server?
Now that you are aware of the GoDaddy SMTP Settings, let us walk through a step-by-step tutorial on using the GoDaddy SMTP Server:
Step 1: Set up SMTP Access in GoDaddy
Sign in to your GoDaddy account and click on the "Email Settings" section.
Choose the email address for which SMTP access must be enabled.
Go to "Edit >>Advanced", move towards the relays section, and click on the "Add" button.
Step 2: Arrange the SMTP Settings
Now, all you need is to configure the SMTP settings. To do it, fill in the necessary details mentioned below to set up an SMTP server:
| | |
| --- | --- |
| SMTP Relay Username | Your email address |
| SMTP Relay Password | Your email ID's password |
| SMTP Relay Port | 25, 80, 3535 or 587 |
| SMTP Relay Server | smtpout.secureserver.net |
After you have entered the required information, click on the "Create" button to save the changes.
Step 3: Provide Additional Details to the Email Client
Once you have configured the SMTP GoDaddy settings, provide additional information to your email client. Thereafter, go to Settings >> SMTP Settings.
If you are not sure what to add, look at the table below and adjust the information accordingly:
| | |
| --- | --- |
| SMTP Server | smptpout.secureserver.net |
| SMTP Port | Select any of the ports out of those that you chose while redesigning the SMTP access |
| Security Type | Either select TLS or SSL |
| SMTP Username | Your exact email address |
| SMTP Password | Your email password |
You can begin using the GoDaddy SMTP server after you have entered all the required information and saved the changes made in the SMTP GoDaddy settings.
Step 4: Scrutinize the GoDaddy SMTP server
As a last step, you should test if your email client is able to access the GoDaddy SMTP server and is working properly. Simply send an email to another email address and see if the recipient receives it.
Also Read: How to Find People by Email Address?
GoDaddy Email Settings (POP and IMAP)
Both POP3 and IMAP are crucial to email server settings. IMAP allows you to view all of your messages on multiple devices at once, whereas POP only allows you to access your emails on one device at a time.
Moreover, you will be glad to know that using GoDaddy you can use the services of both POP and IMAP. I have listed the essential details for each of their settings below for your reference:
POP3 Settings
| | |
| --- | --- |
| POP3 Host | pop.secureserver.net |
| POP3 Port | 995 |
| SSL Requirement | Yes |
| POP3 Username | Complete email address |
| POP3 Password | Registered email account password |
IMAP Settings
| | |
| --- | --- |
| IMAP Host | imap.secureserver.net |
| IMAP Port | 993 |
| SSL Requirement | Yes |
| IMAP Username | Complete Email address |
| IMAP Password | Signed-in email account password |
Key Points to Remember While Using GoDaddy Mail Servers
I mentioned the GoDaddy email settings above, but there are some other important points to remember, some of which I have briefly explained below:
While accessing the IMAP server, you should keep in mind that the names of folders on GoDaddy's servers may not be the same. To make your folders sync, map them correctly.
If you can only see the POP3 incoming server, you will not be able to access IMAP through your email plan.
If this is the scenario, all you need is to visit your mail client and modify the account type. In the mail settings, you can switch from POP to IMAP mode.
Some clients, such as Outlook 2010, Outlook 2013, Outlook 2016, Thunderbird, and Apple Mail, will not allow you to change the account type.
Hence, you can arrange your account in the desired mode via incoming and outgoing servers. Following this way, you can use IMAP through these clients too.
Note: You do not have to worry about your previous email data once you switch from POP to IMAP.
Also Read: What are Email Server Settings (IMAP & POP3)?
Difference Between POP or IMAP Email Server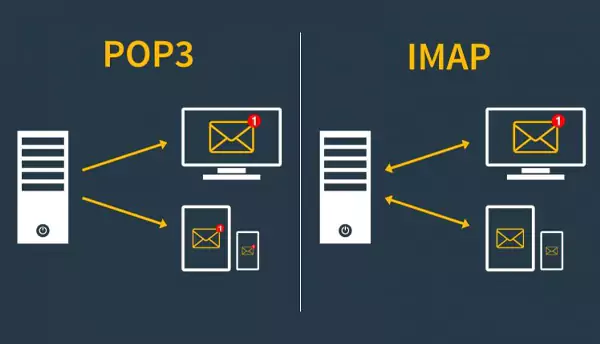 If I talk about emails, then there hardly exists any ambiguity about how to access them. You have all used this communication medium for personal or professional reasons numerous times.
However, when it comes to technical email jargon, such as POP and IMAP, you may get confused. The following points will decode the core difference between IMAP and POP3:
Post Office Protocol (POP), which is used for email, was the protocol that was most often selected when the Internet was first created. Using POP, you can delete the message from the server once you have read it. It means you can read a message on any device using POP without affecting it.
The second is Internet Message Access Protocol (IMAP), which lets you store emails on the server and view them on several devices at once. You will also be relieved to know that IMAP allows you to access your emails from any device.
To summarize, IMAP and POP are both excellent options; however, POP is ideal if you do not have access to a strong internet connection. IMAP, on the other hand, is an excellent choice if you must use multiple devices throughout the day, all of which have a reliable and strong internet connection.
Nevertheless, it should not be a shock to know that the majority of email users prefer the IMAP protocol over other options.
FAQs
Ans: You can send a maximum of 500 messages using SMTP in GoDaddy.
Ans: The term implies your outgoing mail server settings. That's why this protocol is mainly used in the context of outgoing messages.
Ans: Using the IMAP protocol, you can view your email through any device. Furthermore, it allows you to save the email message on your device after you have read it. 
Ans: Post Office Protocol 3 or POP3 is a standard protocol, frequently used for receiving emails by the majority of email servers and their clients' support.
Sources: