Rush is a non-profit health care, education, and research enterprise. Rush Webmail is an email service created for communication between Rush University Faculty, Staff, and Students. They can send and receive messages over emails using the Rush University webmail.
Rush Webmail Login
You can access your Rush webmail account by following these simple steps –
1- Open your browser and go to https://webemail.rush.edu/my.policy.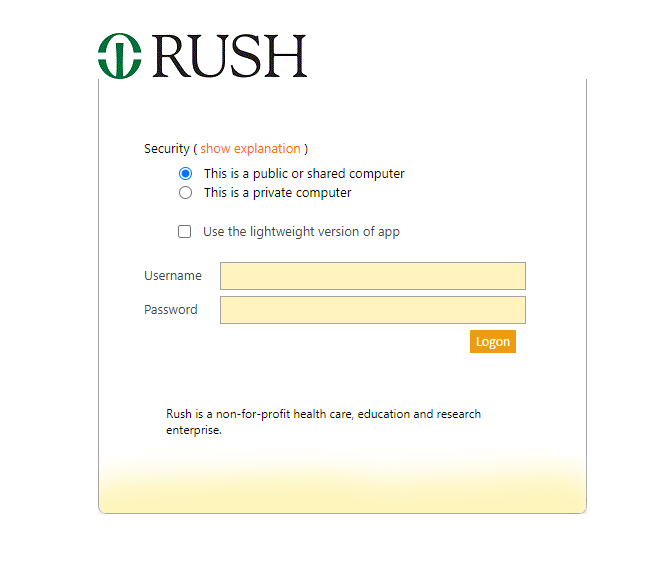 2- Enter your Rush University username and password.
3- Click on "Logon" to access your webmail account.
Note:
Rush webmail offers a high-security measure when accessing the webmail account so you need to choose the "This is a public or shared computer" or "This is a private computer" option from the "Security" option.
Also, you can check the "Use the lightweight version of the app" option to open the light version of your webmail page.
Rush Webmail Outlook App
Rush University also offers Rush University Portal for Faculty & Staffs and Rush University Intranet Portal. These portals redirect the staff and students to cloud-based Microsoft office to access other University systems and resources, including the Rush University webmail portal. Faculty can access the Rush research portal, time and attendance, performance, and other resources, and Students can access student events calendar, student organization event registration, funding requests, and much more.
The rush university uses Microsoft 365 Office to access Microsoft Office programs like Word, Excel, and Outlook using Rush University credentials.
Staff and students can access their Rush webmail using the Outlook application included in the Microsoft office program.
Rush Webmail Outlook App Login
To access the Rush University Outlook Webmail, you need to have Microsoft Office installed on your computer or smartphone. If you do not have installed it, follow these simple steps –
1- Open your browser and go to www.office.com.
2- Sign in with your Rush University ID and password.
3- On the main screen, click on "Install Office" and choose "Other" install options.
4- A new screen will be open, and you will be able to download the Outlook app and other apps from there.
5- Once you downloaded the Outlook app successfully, open the app and log into the app using rush.edu email (e.g., someone@rush.edu) and password to access your webmail account.
Rush Webmail OWA (Outlook Web App)
Rush webmail OWA can be accessed using a web browser such as Chrome, Firefox, and Microsoft Edge. 
To open your OWA based webmail account, follow these steps –
1- Open your browser and go to https://rush.sharepoint.com/sites/university. It will redirect to the online Microsoft office web page.
2- Now, enter your rush.edu email (e.g., someone@rush.edu) and password.
3- Once you logged in successfully, navigate to the Outlook app and click to open it.
4- Once you open it, you can able to do rush email login there.
Rush Webmail Tech Support 
The Rush tech support provides technical support for Webmail (E-mails), Microsoft office 365, Rush University Portal. 
You can contact the support using –
Email – 3clas@rush.edu or help@rush.edu
Phone – (312) 563-2527 (3-CLAS)
We have covered all main aspects of Rush Webmail, including OWA and tech support. Using this article, you can log into your webmail account easily.
Read:
XMission Webmail – Login, Email Setup
UC Denver Webmail – Login & Outlook Setup
Optimum Webmail – Login & Email Settings
Smithville Webmail – Login & Email Client Setup
Read more at – https://webmailup.com