E-mails have become the primary and most commonly used mode of information or message dissemination. Though, this progressive digital world runs on emails today, writing professional mail typically comes with a variety of challenges. 
The key problems in writing a mail can include, finding a specific word or tone to convey your message, writer's block, or fear of plagiarism. And since remote work and online communication became prevalent, the requirement to send a clear message or an effective mail has become more crucial than ever.
This is where Paraphrasingtool.ai can be a game-changer. 
By using its advanced paraphrasing features, you can easily customize your text to suit your specific needs and target audience. Whether it's rephrasing sentences to improve clarity, or using the plagiarism remover mode to ensure originality, this tool can help you overcome the pain points of writing professional emails. 
This article is all about using Paraphrasingtool.ai to take your email writing skills to the next level. The result? You will be able to communicate more effectively with your intended audience.
So, without further ado, let's get started! 
A comprehensive Overview of Paraphrasingtool.ai:
To help you boost your writing skills and to seek other writing-related features Paraphrasingtool.ai is one powerful assistant you may need.
With top-notch paraphrasing capabilities to customize the content for professional settings, this paraphrasing tool is worth trying. 
Paraphrasingtool.ai is indeed an excellent tool for you to improve your content quality, making them more engaging, and sound professional. 
Key Features of Paraphrasingtool.ai
Here are the features of Paraphrasingtool.ai in bullet points:
Offers a variety of writing and editing tools 

Customizable tone options for content

Advanced paraphrasing tool with eight paraphrasing modes
Synonym-changing features for personalized writing preferences
Research panel for searching and inserting text for paraphrasing purposes
Unique features such as audio, image, and speech-to-text paraphrasing capabilities
Affordable solo paraphrasing tool at $7 per month and $5 per month with the annual plan
Suitable for writers, freelancers, and marketers looking to improve their writing skills.
Using Paraphrasingtool.ai to Write Professional Emails: A Step-By-Step Guide
Writing a professional email that conveys your message effectively and appropriately is a daunting task for you. 
Give paraphrasingtool.ai a shot! 
With the help of Paraphrasingtool.ai, you can transform your email writing skills and make a lasting impression on your audience. 
Here's how you can do this:
Step 1: Copy and Paste Your Email Text
Once you have opened the tool, copy and paste your email text into the Paraphrasingtool.ai editor. The editor is intuitive and user-friendly, allowing you to quickly and easily paraphrase your text. 
Next, you need to choose the paraphrasing mode and tone. 
Step 2: Choose Your Paraphrasing Mode and Tone
Paraphrasingtool.ai offers eight different paraphrasing modes and four different text tones to suit your specific needs. 
Here's a complete breakdown of how each of the paraphrasing
g modes can be used to write more effective and professional emails.
1. Free Rewriter – Transform Your Email Language Instantly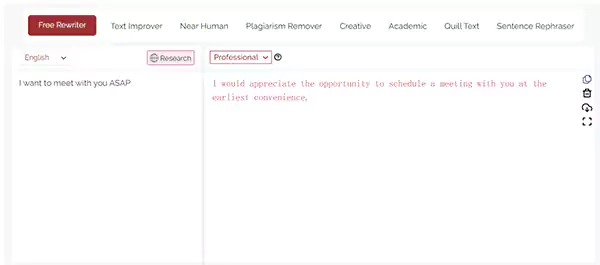 The Free Rewriter mode is a quick and easy way to rephrase sentences and paragraphs in your emails, improving the clarity and professionalism of your message. 
See closely how this Free Rewriter mode suggests alternative phrasing which sounds more professional and on point. 
2. Text Improver – Improves the overall text quality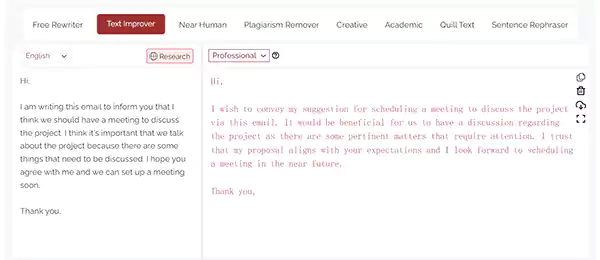 The Text Improver mode can help you identify areas in your email where you may be using repetitive or overly complex language, and suggest alternative phrasing to improve the overall quality of your writing. 
The results were impressive. The improved email sounds more concise and clear. 
3. Near Human – Make Your Emails Sound Like They Were Written By a Professional Human

The Near Human mode can help you improve the overall tone and style of your emails by providing suggestions for more natural and engaging phrasing. 
The text sounds more humanly written, right?
4. Plagiarism Remover – Ensure Your Emails Are Unique and Original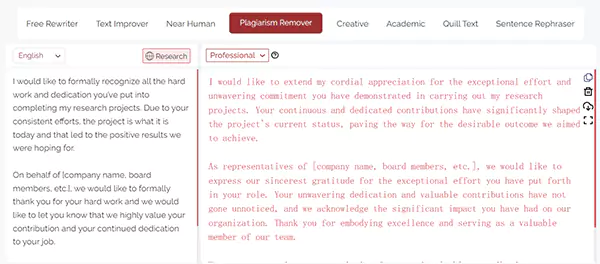 There are numerous email templates available on the internet as per your need. But you cannot copy-paste them as they are. 
Here, this mode might be your best friend. 
The Plagiarism Remover mode can help you ensure that your emails are original and unique, which is essential for maintaining a professional reputation. 
5. Creative – Infuse Creativity and Personality Into Your Emails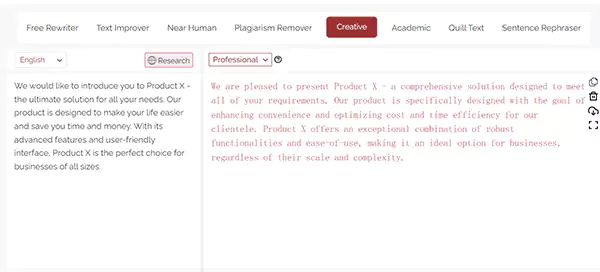 The Creative mode can help you add a more artistic and creative flair to your emails, which can be particularly effective for marketing or sales-related messages. 
For example, instead of writing a dull and generic sales pitch, the Creative mode can help you find more engaging and memorable ways to present your product or service to potential customers.
6. Academic – Write Professional Emails Like a Scholar
The Academic mode is ideal for students or researchers who need to write professional and well-researched emails
7. Quill Text – Get Tailored Email Writing Suggestions
The Quill Text mode allows you to tailor your writing style to suit your specific audience and purpose. If you do not like the paraphrased text, you can rephrase it to get better results. 
8. Sentence Rephraser – Make Your Email Sentences More Concise and Clear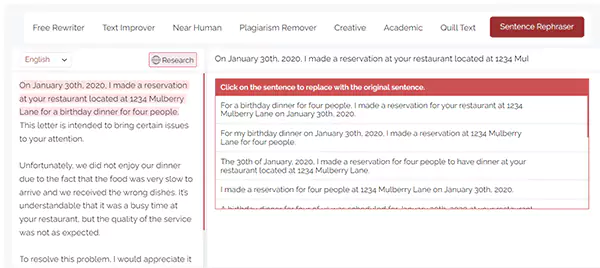 The Sentence Rephraser mode can help you quickly and easily rephrase individual sentences or phrases in your emails, without having to rewrite entire paragraphs. 
This mode works wonders when you're struggling to find the right words to express a specific idea or thought.
Step 3: Customise Your Email Tone
Paraphrasingtool.ai also allows you to customize the tone of your email to suit your intended audience. You can change the tone from casual to formal, and even to witty, making your content more tailored and engaging.
We suggest you stick to a professional tone for writing emails with paraphrasingtool.ai. 
Step 4: Use Synonym Changing Feature 
You can accept the paraphrased text or make further changes to it as per your preference. Its synonym-changing feature helps you change the words to make your writing more tailored and engaging.
Step 5: Review and Refine Your Email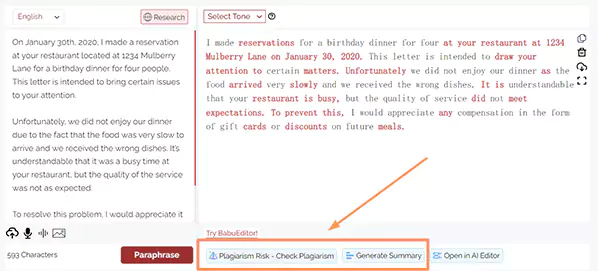 Once you have paraphrased your email using Paraphrasingtool.ai, it is essential to review and refine it for grammar, spelling, and punctuation errors. Use the built-in grammar checker and plagiarism checker to ensure that your email is polished and professional before hitting the send button.
Final Notes
Paraphrasingtool.ai is an excellent tool to enhance your email writing skills and make your emails more professional and effective. 
With its intuitive editor, eight different paraphrasing modes, and customizable tone, Paraphrasingtool.ai makes email writing a breeze. 
Follow these six simple steps to use Paraphrasingtool.ai and take your email game to the next level.