How to Change Password In Outlook Using Mac?
If you use a Mac, then don't get disheartened just because the above solutions were not meant for you. You don't have to exit abruptly as I am going to explain here how to change passwords on Outlook through Mac:
Go to

"Outlook Preferences"

and then open

"Accounts"

.



The new password submitted by you will get automatically saved by Outlook as soon as you exit the Accounts window.
How to Change Password on Outlook Using Android?
Yes, what you have read above is true. It's easy to change your password on Outlook with the help of your Android also. The steps to follow in this respect are as follows: 
Tap on its

"Settings icon"

.



Choose the

"Microsoft Exchange ActiveSync"

option.



Finally, the option shown for which this process is meant, i.e., here you will find the required option,

"Password to update the password"

. Tap on it to proceed.
Ascertain that you retype the

"exact password"

to match the email server.



Hurray and you have succeeded in completing the process.
How to Change Password in Outlook Using an iPhone?
Like on Android, you can change your Outlook password using your iPhone as well. The process is different here from what you have seen to be followed on an Android device. Simply do as you are stated in the below-mentioned steps: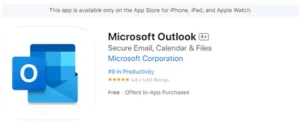 Start downloading the

"Outlook app"

on your iPhone.

After the download is completed, launch the app and move toward the bottom to tap on the

"sign in"

option.

Provide your

"new password"

.

Finally, tap on

"sign in"

and you will find no difficulty while signing in this time.

One thing that has to be noted is that a maximum of two hours is required to update your password. You are quite likely to face any difficulty while processing it in between. If such is the case, then the below guide can be referred to anytime:
Go towards the bottom left. You will find the

"Settings gear"

option. Tap on it to move ahead.



Hurray, this marks the end of the process. Herein, the app closes. Wait for some time and reopen it.
Outlook in Recent News
Since Outlook is a part of the giant Microsoft 365, it seems interesting to know about its recent developments, innovations, and much more brought by Microsoft. Let's have a look at the two most significant announcements about Outlook published by two famous sources:
According to

TimesofIndia.com, "Google is trying to fix Gmail's Outlook syncing issues"

Yes, Google's email service, Gmail is trying to sync other email servicing accounts, and Outlook is one of them. On this account, Outlook users can access their accounts via the Gmail app itself. However, due to a technical glitch, Google is discovering the issue that currently hinders the sync on Microsoft servers.
According to a foreign website, "The Verge", "Microsoft's makes Outlook for Mac free to use". Microsoft has announced free access to Outlook for Mac users. You can find any Microsoft email client for free on the App Store if you are using Mac. Furthermore, it removes the compulsion to have a prior Microsoft 365 subscription or an Office license.


Conclusion
From the above article, you must have understood how certain circumstances could compel you to change your Outlook password.
Out of the several reasons, the risk of data theft is the highest potential risk. If such fraudulent activity happens to you or is highly probable to happen, it's high time that you should secure your data by changing your links to social media, email address, online banking credentials, and most importantly, the security key passwords.
By now you must be well aware of how to change passwords on Outlook using different devices. Just visit this article and take the aid when you are even a bit clueless regarding the proceeding action while implementing the steps. I guarantee you won't have to refer to another source as this itself would be sufficient to solve your problem.    
FAQs
 Check your account first if you can neither send nor receive any email. If you have changed your password recently, update it     again. Due to some unauthenticated activity earlier, the system might have also blocked your account temporarily.
Where can I find a new email in Outlook?
     There exist two options in this respect; either click on "New Email" or use the command "Ctrl + N."
Sources:
Microsoft Support, Change your password in Outlook.com
wiki How staff, How to Change Microsoft Outlook Password, August 7, 2022.